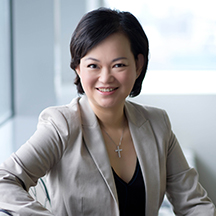 Managing Director, Yahoo Taiwan
Head of Advertising Solutions Development,
Yahoo APAC
Erika Wang participated in Yahoo Taiwan in 2010 as General Manager of Sales Group, leading the sales group to focus on targeting ad, social marketing and mobile advertising business operation. Under her leadership, she will continue bring the revenue in display ad and search marketing advertising and create superior growth success, leading the team into the media business in Taiwan double-digit growth target. Erika was promoted as VP of Sales Group for Yahoo TW and HK in 2013, and also serve as Managing Director of Yahoo TW and Head of Yahoo APAC Advertising Solutions Development since 2014.
Prior to Yahoo Taiwan, Erika Wang was the MD of Mindshare Taiwan, and led the team to won the Taipei Deaflympic Game Pitch in 2009,and brought revenue grow versus year 2008. She also made Mindshare Taiwan historical high both sales and revenue records in 2006.
Erika Wang also served in the following positions:
Deputy GM of FCB Advertising Agency Beijing (2005)
Marketing VP of DaChan Foods Company (Shanghai/ Beijing/Taipei) (2002~2004)
COO of Chinatimes.com (2001~2002)- made chinatimes.com breakeven in the tough web ages
Business Director of Ogilvy Advertising Agency (2000~2001)
Category Manager (commercial brands) of SmithKline Beecham Far East Taiwan
Erika Wang has over 20 years solid experiences from advertising to marketing and operations with good knowledge on channel environment, consumer trend, product development, distributor management and media environment.
Erika graduated from Tamkang University BA degrees in English, Taipei Taiwan.

List of Speakers