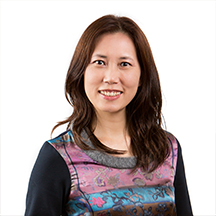 Managing Director,
Ogilvy Public Relations, Hong Kong
Advisor, M.S.Sc. in Corporate Communication programme,
School of Journalism and Communication, CUHK
Clara Shek is Managing Director of Ogilvy Public Relations in Hong Kong. Since joining the firm in 1999, Clara has partnered with her team to build Ogilvy's consistent leadership position in Hong Kong through organic growth, two landmark acquisitions and establishing ground-breaking practices in Travel & Tourism, Social Media, Sustainability and Healthcare Communications.
Under her leadership, Ogilvy PR has enjoyed record growth and won industry accolades, including being named Marketing Magazine's Hong Kong PR Agency of the Year in six of the past eight years. In 2014, Clara won both the Hong Kong PR Awards – Distinguished Professional of the Year organised by Hong Kong Public Relations Professionals' Association, and Marketing Magazine's inaugural Hong Kong PR Awards – PR Agency Head of the Year. In November, 2015, Clara was named one of the 10 most influential individuals in the "Media – Advertising, Marketing, PR and Broadcasting" industry in the inaugural Debrett's Hong Kong 100. Debrett's is a British lifestyle brand that has been recognizing people of influence in the U.K. for almost 250 years. The Debrett's Hong Kong 100 is an annual list that celebrates the city's 100 most influential people, featuring those who have inspired, achieved and instigated change beyond expectation across 10 sectors.
Clara actively contributes to the development of the PR industry and is a keen supporter of community and youth development. She currently serves as an advisor to Hong Kong Public Relations Professionals' Association, a member of the Council of the Hong Kong Federation of Youth Groups, Governing Committee member of the Hong Kong Red Cross Blood Transfusion Service, and Co-opted member of the Community and Publicity Committee of Hong Kong Consumer Council.

List of Speakers