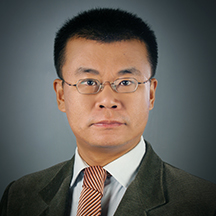 Professor and Associate Dean,
School of Journalism and Communication,
Tsinghua University, China
---
Dr. SHI, Anbin is currently Professor of Media and Cultural Studies, Associate Dean of International Development with School of Journalism and Communication, and Director of Israel Epstein Center for Global Media and Communication, Tsinghua University, China. His research interests include intercultural communication, global communication, public communication, press and politics. Professor Shi earned his B.A. (1992) and M.A. (1995) in English at Peking University and Ph.D. (2001) in Media/Cultural Studies at Penn State. He was honored as the "Changjiang Scholar" (2016) and "21st Century Outstanding Scholar" (2010) by the Ministry of Education and is serving as the special consultant and guest professor for the State Council's Information Office, and has completed the training of more than 10,000 government spokespersons and press officers at central, municipal and provincial level. He also frequently appears on CCTV-NEWS, New York Times, Washington Post, Newsweek and Al Jazeera to comment upon contemporary China's press and politics.
Title and Abstract:
The Transcultural Turn of Crisis Communication in the Era of Digital Media: Case Studies and Theoretical Implications from Greater China
The prevalence of digital media calls for the urgency and necessity of theoretical and paradigmatic transformation in the realm of crisis transformation. Such mainstream theories as "Image repair" (IR) and "situational crisis communication theories" (SCCT) cannot fully account for the intricacies and complexities of crisis response and reputation management for such stakeholders as government and enterprises. What digital communication has brought about is the increasing accessibility of networking and participation across different national, social, religious and cultural communities. In this light, both IR and SCCT, which is based upon transmission model of communication and stimulus-response rationale within the environment of traditional legacy media, cannot follow up with the constant changes brought forth by digital communication. The present study proposes a transcultural turn of crisis communication which would adapt to the more globalized, audience-centred, and multi-platformed ecology of media convergence. Two recent cases from the Greater China (Chinese mainland, Hong Kong and Taiwan) would be used as the prism to unravel the theoretical implication of such transcultural turn of crisis communication. The first case in political realm is a recent Facebook "crusade" between Chinese mainland and Taiwan netizen regarding a pop star's "flag controversy". The second case in the business world is New Zealand-based Fonterra milk powder scandal in China.

List of Speakers