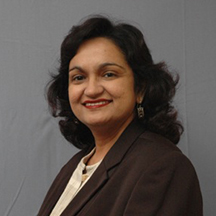 Professor,
Faculty of Communication and Media Studies,
University Teknologi MARA, Malaysia
---
Kiranjit Kaur is an Accredited Public Relations Fellow with the Institute of Public Relations Malaysia (IPRM) and has more than 30 years of experience in public relations education. Attached as a Professor in Public Relations at the Faculty of Communication & Media Studies in Universiti Teknologi MARA, Kiranjit has published a number of journal articles and book chapters in her research interest areas in public relations management, media ethics, and women and media. Kiranjit also serves on the IPRM council and chairs the IPRM Education Chapter; the council of the industry body Communication and Multimedia Content Forum; the Steering Committee of the Networked Media Research at the Malaysian Communication and Multimedia Commission; and chairs the Media Committee of the National Council of Women's Organizations, Malaysia. Kiranjit graduated with her PhD in Mass Communication from University of Maryland, USA.
Title and Abstract:
Recent Technological Development Trends and Socio-Economic Challenges Impacting on Public Relations and Strategic Communication
Development is on an upward rise in most Asia-Pacific countries, despite the current economic setback worldwide. Long-term development plans are still on the drawing board for industrialising countries like Malaysia (objective of Vision 2020) with the aim to be uplifted to a higher economic status. Attaining this objective makes it imperative for nations to seek international investments. For the investors to excel in the receiving countries, effective public relations and strategic communication are imperative, especially in the light of today's explosive digital communication platforms. This paper attempts to highlight how recent technological development trends and socio-economic challenges impact on public relations and strategic communication among the Chinese investment companies in Malaysia, which are part of some of Malaysia's large development projects.
This paper thus, examines two main questions: First, what parallels exist between public relations practice in China and Malaysia? This includes an exploratory examination based on the five environmental variables defined in the Excellence project (Grunig, et al, 1982). Second, what public relations and strategic communication challenges do Chinese investment companies face in "mega" Malaysian development projects (such as the Penang port development and land reclamation; Iskandar project; and Tun Razak Exchange). This includes a discussion on how socio-political environment and technological development, especially the digital media landscape, impact on the practice. Islamic ethical principles as well as ethical considerations of Sun Tzu and guang xi in communication are also examined, bearing in mind the dominant doctrines of Muslim Malaysia and the Chinese.
Perceptions about the socio-political and cultural nuances on the stakeholder relationship management practices will be sought from public relations and corporate communication practitioners (both Malaysian and Chinese) as well as identified spokespersons for the Chinese investors in managing the communications for selected projects. The different worldviews and experiences of public relations and corporate communication will provide insights into the ways in which practitioners view their work and the challenges they face in their professional practice within the contexts of the local Malaysian culture and the national Chinese culture, especially in the digital era. The analysis will explore relationship between public relations theory and actual practice.
List of Speakers